Friday, October 9, 2009
The portfolio that helped get me the internship at Disney, soon to be updated.
Please click images for a larger view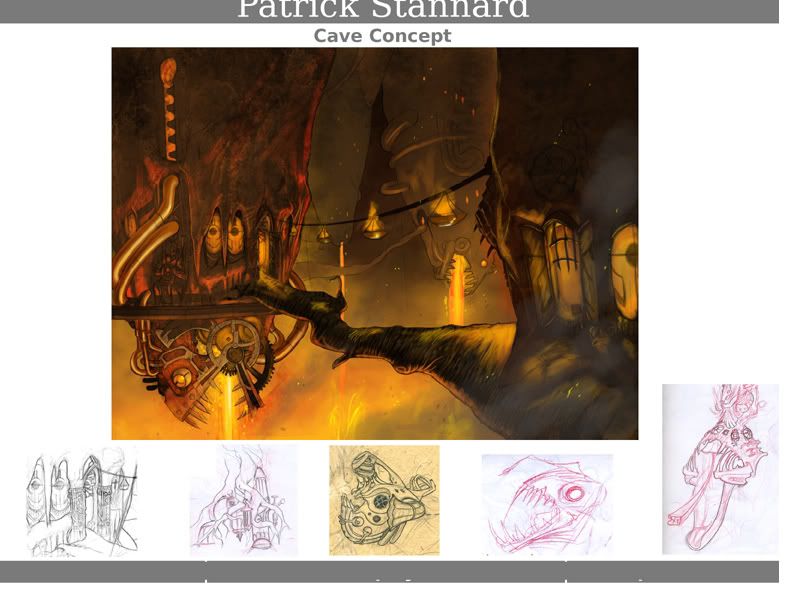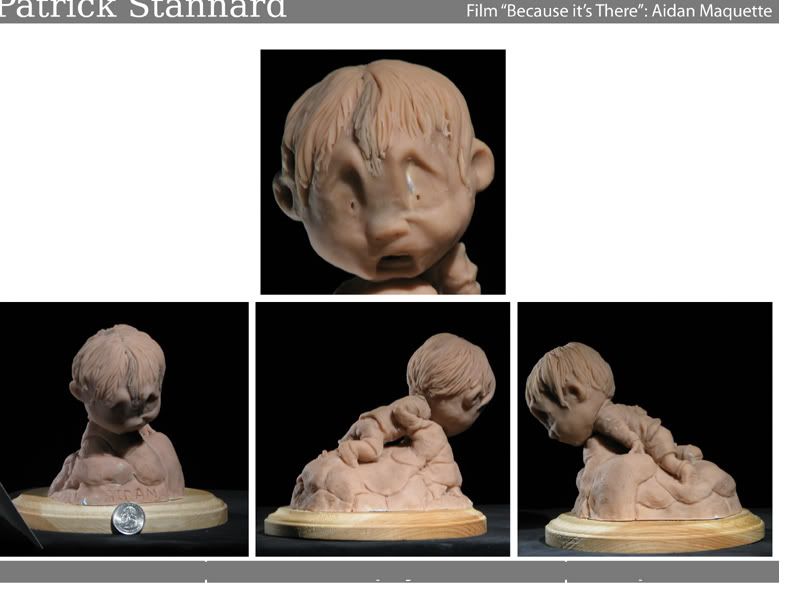 Posted by

Patrick Stannard
at 5:28 PM
No comments:

Tuesday, October 6, 2009
Greetings everyone! Here are some quick images from my senior thesis film. I'll just show the father for now and run through some of the processes I did to get him where he is now.
This is a more refined face for the father. After working through some of the construction and trying some different styles in cheek and jaw design I arrived at this. For the father to soften in his demeanor I had to make his face more expressive.
A quick bone study. Taking what I know about skulls I then applied it with the necessary adjustments to fit the father's head structure. I left the jaw unhinged so that he can really open that mouth.
This is my favorite of his smiles. A mirror really helps when doing expressions.
Various facial expressions I made using a mirror as reference.
Exaggerating some of the facial features, perhaps too much.
Can you see the Disney influence? Here I tried out some simple construction, an egg for the body, circles and tubes for most everything else. He's a bit toned down in the proportions here so that he is easier to animate.
I did some tight construction on his face to feel out the forms and shapes that make up his brows, nose, and jowls. It's not a very appealing design, but this got the job done as far as breaking down the complex construction into more digestible pieces. Later I softened some of his features to make him more pliable.
More construction at work, you can see that when I work really tight it tends to get plastic and stiff.
More of the same. It works, but it's not as far as I can go.
A silhouette I worked up to try and make his hands more manageable. I'm not too happy with how thin he came out looking, and I think I'll stick with the thicker arm designs.
The first drawing of him as the artist type. A mix of Leonardo Da Vinci, Michelangelo, Beethoven and even some Edgar Allen Po went into the design, as well as the mouth from my father.
Here the final design is with more meaty hands. I think I'll stick to the jowls in the surprised expression page, overall though, this is the design I am working with. Maybe smaller hands, we'll see.
Till next time, best a luck!
Posted by

Patrick Stannard
at 7:18 PM
No comments:

Sunday, October 4, 2009


Greetings everyone! Long time no see. I'll try and keep this short and sweet. I've finally gotten around to uploading one of my instructional videos. This one is about character construction. I hope you all enjoy!
Posted by

Patrick Stannard
at 12:15 AM
No comments: